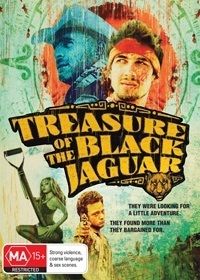 Dir: Mike Bruce
Starring: Cameron Van Hoy, Michael Drayer, Timothy V. Murphy
The Film:
Treasure Of The Black Jaguar is quite the journey; it's a rather different film and a modern type of grindhouse one. For me this was a rather cool film, one that just does not come up very often. The driving force is a treasure, but our characters after the treasure are not Indiana Jones types, this situation just kind of falls into their lap. It was a brave move to inject the grindhouse style of the 70's into it, and a move that fully pays off as well. There is a Robert Rodriguez flavour here, and a flair that I am sure is owed to the late Tony Scott.
Our story is kind of typical but it's handled in a not so typical way. We have two friends Anthony (Cameron Van Hoy) and Shlomo (Michael Drayer) who decide to leave the ladies in their lives at home (Anthony's crazy girlfriend and Shlomo's possessive mother) and head to Mexico for an adventure. But they wind up in prison, where they meet fellow prisoner Blake West (Timothy V. Murphy) who tells them he can lead them to riches. They escape prison and head off to find their treasure, but little do they know they are being perused by West's former colleague Katsu Taka (Masayuki Imai) who is out for revenge.
There are many films where obtaining riches have lead characters down dark paths, it is a tale of morality and Treasure Of The Black Jaguar is certainly one of those. I have to hand it to co-writers Van Hoy and Mike Bruce who also directed, this is quite different and while at times I had ideas of where the film might go it still managed to pack in surprises. This is an action film, an adventure piece, a drama at times and a dark comedy. It isn't held down by concentrating on being a single genre; it really is its own thing. The grindhouse feel just adds to the fun, and it really does feel as though this is a film that could have been shot in the 70's. It is a timeless tale in other words, and one that is quite intriguing to see unfold.
The actors are all great and really well cast, I loved Van Hoy and even though his character could have easily been an unlikeable one, he brought a lot of charm. Michael Drayer was very good, and again he was someone we could get behind because he made us care and gave us charm. The pair had great chemistry and worked well together, they both felt natural and this really helped. Murphy was fantastic as West, the guy that can't be trusted and he certainly toyed with my emotions throughout. Imai was so good, his storyline made sense and he was kind of sinister. It was well played to keep West and Taka as these tools that could destroy our two leads, yet both certainly seemed justifiable with their actions and it causes conflict and definitely keeps things interesting.
There are so many themes at play within this film; it is more than just a story of going to find treasure. It really is a nice surprise of a film, and while it can be a little confusing at the beginning it is worth sticking with. This is a great indie film, it is a brave one and I really have to applaud these guys for going down a route that wasn't conventional and I think audiences will embrace that.
The Australian DVD:
The DVD I reviewed was a screener, so I am unable to comment on Picture/Audio quality.
Rating:

DVD details here.
Thanks to Bill care of Gryphon Entertainment for the copy.