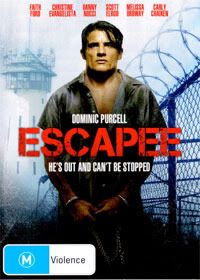 Dir: Campion Murphy
Starring: Dominic Purcell, Faith Ford, Christine Evangelista, Scott Elrod
The Film:
Escapee is a film with some interesting ideas, but it is very predictable and full of typical clichés. I really wanted to like this film, but it really fell into 'typical slasher' territory and it did not offer anything new or fresh.
The story goes a little something like this; a psychology class go to a local mental institution to observe. Student Abby (Christine Evangelista) has a very scary encounter with a high-risk patient Harmon (Dominic Purcell), who has been locked up for the brutal murder of his girlfriend. Abby returns home in the company of her roommates to study, and at the same time Harmon has escaped from the institution and is after Abby. Twists and turns follow, but you'll guess them way before the reveal.
The idea is an interesting one, it really isn't new but the set up was and Dominic Purcell in such a different role was very appealing. But after the first 10 minutes to really starts to suffer, it was as if all the Hollywood horror and slasher clichés were looked up and added to the script. There are jump scares galore, young and very attractive women present, killings, cops who can't quite put the pieces together, red herrings and old fashioned twists, you know just to name a few.
Perhaps one of the most infuriating things about this was the plot holes and the stupidity of all of the characters. There are certain ways to build tension and progress your story but the characters do not need to be so stupid and make absurd decisions. If I can see exactly how everything is going to unfold right off the bat, surely psychology major's and the police would be able to as well? The character of Abby and her friends are at first quite likeable but as it goes on, they really become annoying and my investment really fell.
On the plus side, the film is really well shot and it looks great. For the most part the cinematography was really strong, and there was some great use of camera angles. There was certainly a lot of effort put in to pull off the night-time scene, especially with the black outs. The performances aren't too bad either; Purcell clearly had a great time playing the villain and Evangelista really relished in the victim role. Side characters were fine, most of them did a decent job but some dialogue was so poorly written they did struggle.
If you are looking for something fresh, this isn't it. If you are a Purcell fan, then yes this is worth a watch, if you enjoy horror/slasher's then this might be a disappointment. It felt very much like a 50/50 affair, effort was there but so much also seemed lazy. I will give it this; it is a better film than some of the recent horror remakes we've had to suffer through.
The Australian DVD:
The DVD I reviewed was a screener, so I am unable to comment on Picture/Audio quality.
Rating:

DVD details here.
Thanks to Bill, care of Eagle Entertainment for the copy.